Staff Experience Survey Coming March 28
What is your experience like working for UC Davis?
On March 28, you'll receive an email invitation to complete the Staff Experience Survey where you can provide feedback on workplace flexibility, belonging, career opportunities, leadership, and other important areas.
The Staff Experience Survey consists of 27 questions that you can complete in less than five minutes and your confidentiality is protected so you can feel comfortable providing honest feedback.
Your feedback matters. Plus, every time someone completes a survey before April 11, a $2 contribution will be made to the Staff Emergency Fund, to help staff in financial need.
On March 28, please open the email survey invitation from UC Davis and Glint and let us know what UC Davis can do to become a better place to work.
Thanks in advance for participating and sharing your experience working at UC Davis.
Learn more about the Staff Experience Survey at hr.ucdavis.edu/staffengagement, including survey questions and progress since 2020.
Gary S. May
Chancellor
UC Davis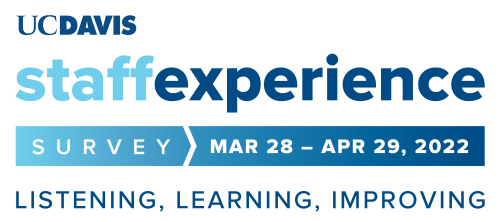 Primary Category