The pandemic forced employers everywhere to make big changes.
UC Davis and UC Davis Health turned it into an opportunity to reimagine work arrangements in a way that benefits both the employee and the department.
At the outset of the pandemic, employees whose work did not require them to be onsite started working from home; without any certainty about how long the arrangements would last.
A Pandemic Reaction
UC Davis' massive shift to remote work was a reaction to the pandemic and one that helped so many employees and their families. Quickly, departments across UC Davis started realizing the benefits of remote work:
Reducing on-site space needs and carbon footprint

Improved service delivery and productivity

Enhanced employee satisfaction and wellbeing
"UC Davis listened to employees who wanted permanent remote work arrangements and are proving it's a better way to deliver many services. We value flexibility because we value our employees, who consistently go above and beyond for our students and patients, wherever they're working." -- Chancellor Gary May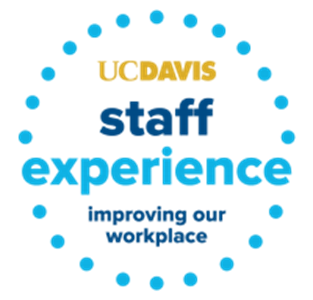 ---
By the Numbers
Schools, colleges and divisions across UC Davis and UC Davis Health have formalized long-term remote working arrangements for thousands of employees, where it makes sense for the business and its services to students, patients and customers.


---
Why Flexible Work is a Solution
Attracting and retaining a diverse faculty and staff is one way UC Davis is realizing Goal 3 of the University's Strategic Plan, which calls for making UC Davis a "place of excellence for learning and working." 
Flexible and remote work arrangements are now another part of what makes UC Davis an excellent employer. But in order for UC Davis to attract and retain the diverse employees we need to outgrow expectations, flexible work needs better support and it may need to expand." -- Christine Lovely, Chief Human Resources Officer    
In fact, hiring managers report that candidates increasingly expect flexible work options as a condition of employment. This forever shift in the workplace isn't lost on HR and partners across UC Davis who continue to think creatively about flexible and remote work.
---
Flexible Work Liaisons
On the Davis Campus, representatives from every school, college and division helped develop the way remote work would work for staff. The campus's Flexible Work Liaisons still meet bi-weekly to help improve how UC Davis manages and engages its remote workforce.

Nephi Lewis
Director of Human Resources, College of Agricultural and Environmental Sciences
"Our goal has been to balance what our employees need with the need to work together with students and faculty in person. Consequently, we have a whole range of options available to employees with that goal in mind. Our responsibility is to be a part of a community that our students can engage with, because there is a real power to in-person connection. I think the benefits are already being seen, in that staff are continuing to do incredible work in hybrid settings, while staying connected to the energy of an in-person campus. We remain flexible as we celebrate the diverse needs of our staff, students and faculty while staying true to our core mission."
CA&ES Quick Stats
73% of staff have hybrid work agreements

47% (317 staff) work at least 60% from office

​​​​​Kim Maslaniak
HR Manager for Information and Educational Technology
"Initially, the move to flexible work seemed like a daunting task that Information and Educational Technology has now fully embraced - and it's all for the better. Productivity is up and employees are especially thankful because our remote work is actually allowing our employees to do more to support the university.
IET has a significant number of staff now working remotely in some fashion and I don't see that changing. That's good because it's increasingly difficult to recruit and hire new members into IET and this shift has allowed us to broaden our recruiting efforts."
IET Quick Stats
76% of staff work hybrid on/offsite arrangement

13% (38 staff) work fully onsite
---
From Crisis to Strategy
Employees have successfully worked from home for over two years and have proven remote work can be a superior way to deliver services. As an organization, we have a lot to learn about how to manage people virtually, and how to help remote employees connect with each other and our vibrant campuses.
New Tools and Skills
This new way of working requires skills and tools that supervisors haven't needed before now and HR is committed to ongoing support:
Forums




The WorkLife and Organizational Excellence teams are leading forums and webinars for supervisors on both campuses that address a range of flex-work topics.

Spring Webinar Series: Work-Life Skills for the New World of Work 

A four-part series

for staff featuring presentations by WorkLife, Ombuds, ASAP and Organizational Excellence

Instructor-Led Training




Learning and Development will resume

Managing Remote and Hybrid-Remote Teams

in mid-April. Managing in a remote environment re-launches with instructor-led training in mid-April

Digital
---
How We Quickly Became a Flex-Work Leader


In an effort to apply the lessons learned from switching to remote work, UC Davis looked to diverse constituencies and employee feedback to develop infrastructure, training and processes that advanced alternative work arrangements.
UC Davis Health
The Digital Workplace Program was informed by an employee survey in Jan. 2021 (employee/student login required) and focus groups to understand how long-term remote work arrangements could be implemented successfully. Managers and employees resoundingly asked for remote and hybrid work options. Now, promoting and supporting remote and hybrid work is a critical strategy for UC Davis Health.
Davis Campus
The Workplace Reimagined Workgroup made remote work decisions surrounding four main areas: Resources & finances; Legal, policy and tax; Space & sustainability; and People & culture. Keeping in mind that flexible work arrangements can be complex, each school, college, and division on the Davis campus designated Flexible Work Liaisons to support remote work planning in their respective units and to keep employees informed.