Plans that work for you.
At UC Davis, we strive to create an environment where individuals can be problem solvers, risk takers and restless pioneers. By offering competitive benefits and rewards, our employees can continue to do their best work.
Browse health plans, retirement plans, and other benefits to make the most of your UC Davis experience.
---
Benefits Help Desks
Do you have a general benefits question but don't know where to go? Our team of dedicated Benefits Analysts are available to point you in the right direction.
Virtual Help Desks
Please join us every Wednesday from 10–11 a.m. via Zoom. You can even request to meet individually with a Benefits analyst in a breakout room.
In-person Help Desks
Feel free to stop by our weekly Help Desks and one of our Benefits team members can help to provide guidance and information.
Benefits Help Desks at UC Davis Health:
North Addition Office Building (NAOB)

2335 Stockton Blvd, Sacramento

Thursdays – 8:00 a.m. to Noon
---
UC/Anthem contract termination does not affect UC employee/retiree medical plans
Anthem Blue Cross has terminated its agreement with UC Health, including UC Davis Health. If a new agreement is not in place by December 31, 2023, UC Davis Health will be considered out-of-network for (non-UC) Anthem Blue Cross members beginning January 1, 2024.
Per UC Davis Health: This termination does not affect the in-network availability of UC Health facilities and providers for UC employees, UC students with UC SHIP coverage, UC medical residents and fellows in the PPO plan or UC retirees. Their health plans are governed by separate UC-Anthem agreements.
---
Open Enrollment for 2024
UC health plans will be open for enrollment from 10/26–11/17/2023. Look for your Open Enrollment packet in the mail at the end of October.
The UC Medical Plan Overview (for employees) and UC Retiree Medical Plans presentations will be updated with information for 2024 by the end of October.
---
Contact Information: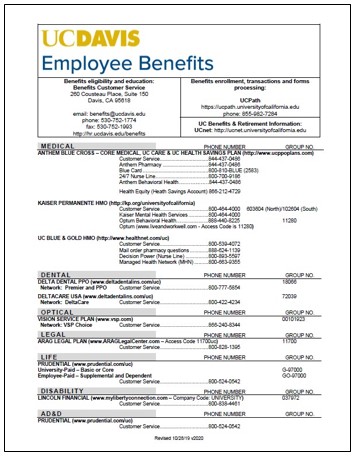 Employee Benefits & UCPath
Health & Welfare Vendors
Retirement & Savings Vendors
Download Benefits Contacts [PDF] 
Benefits at UC Davis
benefits@ucdavis.edu
(e-mail strongly preferred)
Please include your phone number and UCPath ID.
Phone: 530-752-1774
(voice mail only—for those without e-mail)
On-site Meetings by Appointment Only
*Benefits Representatives work remotely*
Benefits at UC Davis Health
benefits@ucdavis.edu
(e-mail strongly preferred)
Please include your phone number and UCPath ID.
Phone: 530-752-1774
(voice mail only—for those without e-mail)
On-site Meetings by Appointment Only
*Benefits Representatives work remotely*