Over 4,500 Davis campus staff participated in the inaugural Staff Experience Survey.
Survey results rolled out to supervisors and managers in January 2021 and shortly after, a Staff Experience Task Force was charged with reviewing results and making recommendations.
Big Campuswide Actions and Improvements
Since the first Staff Experience Survey we've been taking steady and deliberate actions to make UC Davis an even better place to work.
 
The Chancellor and Provost established the Davis Campus Staff Experience Advisory Group, responsible for ensuring that campus-wide staff issues are elevated and addressed. 

This group will make recommendations directly to the Chancellor regarding solutions and programs that can improve staff experience and engagement.
Human Resources is working with partners across the Davis Campus to realize recommendations following the 2020 survey:

HR is helping build a flexible workplace. The pandemic forced employers everywhere to make big changes. UC Davis and UC Davis Health turned it into an opportunity to reimagine work arrangements in a way that benefits both the employee and the department.
HR Compensation prepared a new Interactive User Guide for Salary Offers, Stipends and Equity Adjustments to improve education about compensation and classification programs, and to increase understanding and transparency.
HR published the Attracting, Selecting and Hiring Diverse Talent at UC Davis Playbook. In March 2022, the Attracting, Selecting and Hiring Diverse Talent Certificate Series will be available in the LMS.

HR and FOA's Business Intelligence have developed a Workforce Diversity Dashboard that will provide employee demographic information at the school, college, and division level. 

The dashboard will provide valuable insights for schools, colleges and divisions to assess current state and measure the progress of diversity, equity and inclusion strategies. Data will be aggregated to protect confidentiality. Access to this new dashboard will be provided in the near future following the completion of a final security review.

To build the foundation for the culture we want, UC Davis is integrating the new 

UC Core Competency Model

 - a shared set of behaviors and language that reflect UC's vision and values - throughout the employment lifecycle. 

Eventually, the core competencies will be incorporated into various aspects of the staff experience from recruiting, onboarding, learning and development and much more. They will feature prominently in the area of performance management, including annual performance appraisals, starting this spring with the 2021-22 appraisals for non-represented staff. 

Moving forward, HR's Organizational Excellence is convening a working group to consider and recommend enhancements to the annual performance appraisal process.
UC Davis Group Mentoring Program is back after a brief hiatus. Our UC Davis community has consistently expressed interest in mentoring as a professional development tool, as recently captured by our 2020 Staff Experience Survey. UC Davis Group Mentoring Program is a 6-month long Virtual Program that starts in July and ends in December, 2022. The time commitment is approximately 20 hours of programming over six months, with additional pre-meeting planning and activities. This is a step in the right direction to make UC Davis a better workplace for all!

Staff Assembly established the Faculty/Staff Partnership Award in 2022

The Faculty/Staff Partnership Award seeks to highlight teams who actively develop and encourage faculty/staff partnerships and as a result are able to make notable contributions to UC Davis
---
Departmental Improvements
Because so much of the engagement-boosting activity occurs at the School, College and Division level, we're excited to see colleagues using staff feedback to improve the workplace.
Cross-Training Creates Promotional Opportunity in Student Housing

Our staff provided valuable feedback to the survey question "My role is an excellent fit with my strengths."

The feedback stressed their interest in cross-training, which is so helpful in career advancement. We used the recommend action items, which suggested holding retention interviews. During one interview in particular, we identified an individual with skills that we soon needed in a vacant position – so we started cross-training. This is a win for our department and the employee, who is building their UC Davis experience. We look forward to future cross-training endeavors…

Ramona P. Hernandez
Director Business and Financial Services
UC Davis Student Housing and Dining Services

360° Feedback and Individual Leader

Coachin

g

Within

Student Affairs
One of Student Affairs' divisional outcomes is to offer 360 feedback assessments and individual coaching for leaders. We're rolling this out to be accessible to our managers who feel this additional feedback may be helpful to the

​

m and their teams. Additionally, a new program focused on strengths-based leadership is coming this Fall and will help support our overall efforts to boost staff engagement.

Amy Shuman


Workforce Development Director


Student Affairs

Library's Employee Engagement Committee Builds Community

We established an Employee Engagement Committee cast to focus on health and wellness concerns, community building, and employee appreciation.

Employees expressed a clear desire to have more social activities and engagement, which this committee will plan – five total over the next year. We look forward to helping employees network and build relationships across departments, while having a little fun and appreciating employees.

Bill Garrity
Deputy University Librarian
Library

Vet Med Improving Equal Opportunity

At Vet Med, we used survey feedback to set multiple goals over 2022.

Two specific goals relate to:

1. Improving Leadership for My Team
The SVM will arrange Town hall meetings with campus leadership in order to engage leaders of matters important to the SVM, gain their feedback while increasing confidence in the leadership teams.

2. Improve Equal Opportunity for My Team
DEI Committees within the SVM Development group are being established and looking at our organization and how we can diversify.

Mary McNally
Executive Assistant Dean for Administration
School of Veterinary Medicine

FOA Seeks to Improve Campuswide Communications

Finance, Operations and Administration created the Digest in direct response to feedback to the "Campus Does a Good Job Communicating" question.

The goals of the Digest are to:
>> Better inform employees of logistical, administrative and operational information, particularly with regard to upcoming timelines and actions needed.
>> Combine important updates into single to-do list email to reduce clutter and increase employee confidence that they are being kept well informed.
>> Improve employee knowledge/awareness of campus systems.

View the Digest released March 31
Tag actions aimed at staff experience.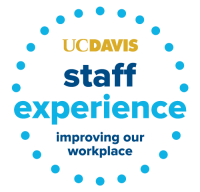 ---
Top Tips for Supervisors to Take Action
---
Contact:
For questions or more information: staffexperiencesurvey@ucdavis.edu