​

UC Davis is winning at flexible work and it's benefiting the university and staff.

Offering employees more freedom over where, how and when they work is a strategy UC Davis embraced during the pandemic, and we're seeing the benefits daily.
Flexible Work Drives Engagement
Top Scores in 2022 Staff Experience Survey
Purpose
The work that I do at UC Davis is meaningful to me.
Role
My role is an excellent fit with my strengths.
Workplace Flexibility
I am satisfied with the flexibility (e.g., flexible schedule, hybrid/remote work) provided by my department/work unit.
Flexibility lets employees commute less, be more present for their families and generally better manage life; and staff are happier for the flexibility, as indicated by UC Davis' third-highest-score in the Staff Experience Survey. 
UC Davis will keep working to make flexible work arrangements accessible to staff because we value our employees and in turn, staff regularly continue going above and beyond.
---
Transparent and Personalized
One of the most widely acknowledged benefits of flexible work arrangements is working with your supervisor to create an arrangement that works best for you, while ensuring business needs are met.
Megan Macklin, UC Davis' Associate Director of Campus Climate and Inclusion Initiatives, lives close enough to campus to ride her bike to work, but nonetheless appreciates having the option to work from home. 
Macklin hasn't "really worked in an office" for about five years, since the birth of her first child. Her initial plan had been to send her daughter to childcare once she returned to the office following maternity leave, but she eventually reconsidered and decided to take advantage of the option to work from home. Now, Megan only travels to campus for specific tasks and meetings that require her to be physically present, which occur irregularly, usually about once a week. Because of her home's proximity to the campus, her occasional in-person appearances, and the fact that most of her colleagues also work from home nowadays, she still feels "just as connected" to her office remotely as she did in person. 
Among the things that Megan appreciates about UC Davis' flexible work arrangements, especially over the last two years, is how they're "formalized... as opposed to relying on an agreement that's just built off of a relationship."
I've heard from colleagues who are in similar situations that having that clear documentation really means a lot. I think that that in and of itself is a big signal from the university that they're committed to flexible work arrangements. -- Megan Macklin
---
Opportunities for Everyone
Esther Cannizzaro, HR Manager for the UC Davis Library, works on-site on Tuesdays and at home all other workdays, like the rest of her team. 
Coincidentally, she and her colleagues shifted to a partially remote work arrangement right before the COVID-19 pandemic. They had already moved all their working materials to Google Drive, so when UC Davis suspended campus operations, they were prepared to work from home.
"My team and I were extremely busy during the pandemic, because we managed other departments' flexible work arrangements. We were dealing with all of the employee questions, COVID-19 leaves, many other HR things that were impacted by the pandemic — and we did it seamlessly. I was so proud of my team and how well we were able to adapt."
Her experience as an HR Flexible Work Liaison, working with other HR business partners, has helped Cannizzaro appreciate the wide range of potential flexible work arrangements available at UC Davis. When Cannizzaro works with customers she notes that working remotely is just one aspect of a flexible work arrangement. It can involve, for instance, shifting an employee's hours so they work longer days over a shorter workweek. Cannizzaro also emphasized the importance of supervisors working closely with those whose flexible work arrangements they're managing, and applying "out-of-the-box thinking" to negotiate a schedule that both meets an employee's personal needs and allows them to meet the demands of their jobs.
"It makes for a better work environment if you feel like you can talk to your supervisor and come up with something that works for both of you," Cannizzaro says. "And sometimes, when you give them that, the payback is double."
---
Increased Productivity
Some people report that being able to work from home actually increases the level of productivity they experience while doing their job. This may be linked to having more control over how they pace themselves, and having more time at their disposal that they would otherwise spend commuting.
Pam Fiorini, a coordinator with Employee and Labor Relations, works entirely from home in another state. She recently moved to Oregon "with the blessing of" her department, which currently operates 100% remotely. Pam says being able to move closer to her family has been the biggest benefit of this arrangement, but being able to spend her lengthy shifts at home also has other benefits.
"I find that I'm much more productive working from home. I have fewer interruptions. I truly think I get more done than I did in an office environment. -- Pam Fiorini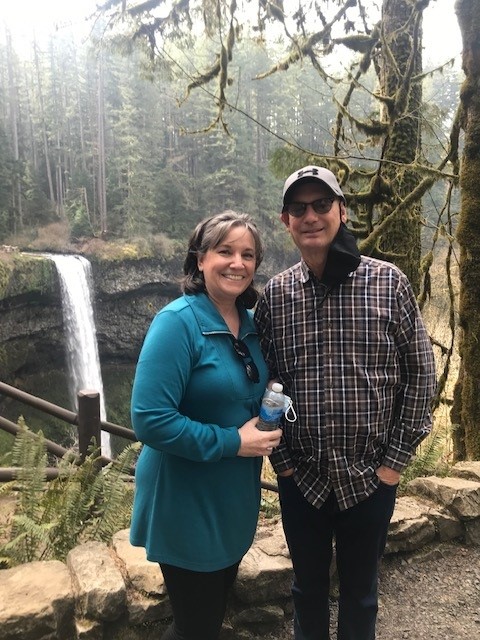 ---
Quality Time with Family
Adam Stephens, an Academic HR Analyst at the UC Davis Library, has a flexible work arrangement which he negotiated shortly after the birth of his first son, over a year ago. It involves working an extended on-site shift on Tuesdays and working from home on all other workdays. 
Like all other subjects interviewed for this article, he expressed that being able to spend more time with family is one of the best parts of working from home. 
"If you think about commuting— say, an hour or an hour and a half each day— that time adds up. I have a one-year-old son, and another on the way, so I'm very fortunate that those hours are time that I will get to spend with my family. -- Adam Stephens
---
Staying a Best Employer
As a best employer, UC Davis is continually looking to improve flexible work arrangements in order to enhance productivity and foster connections - between colleagues and with our vibrant campuses.