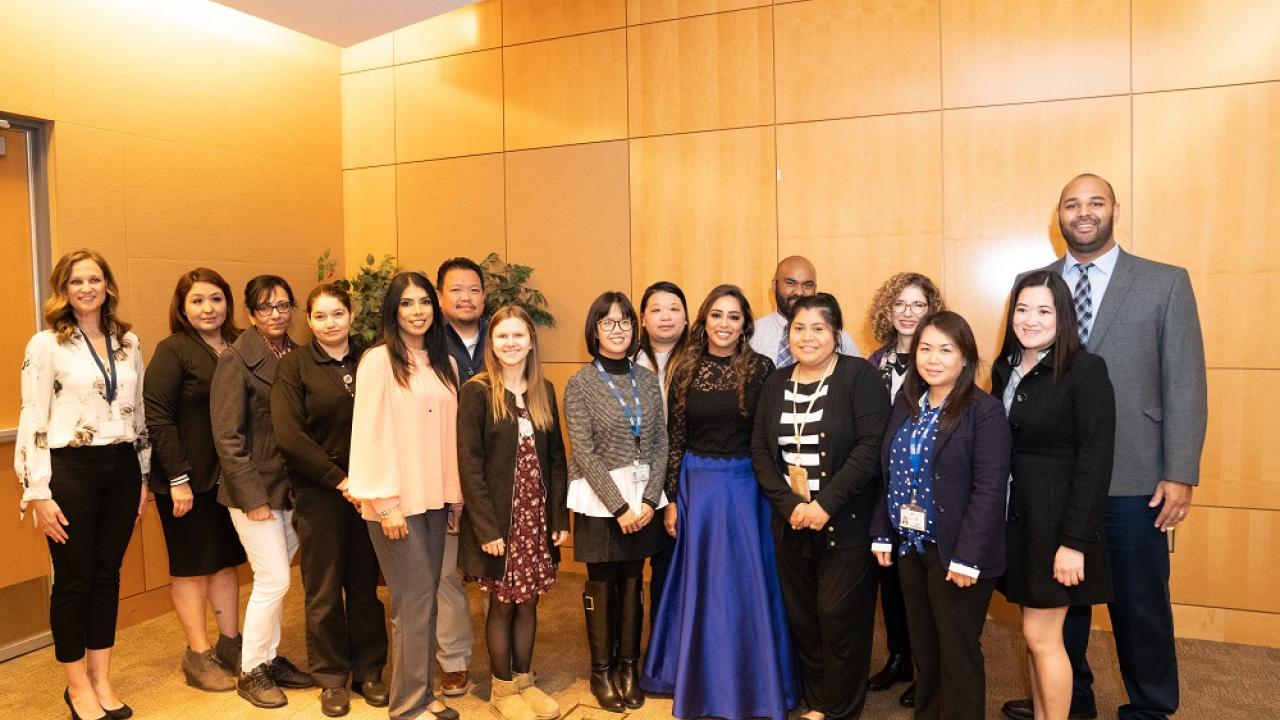 With leadership messages from Carina Celesia Moore, M.A., SPHR, CPLP, SHRM-SCP, Director of UC Davis Talent Management and Development, and Lyndon Huling, Ed.D., Interim Lead, Leadership Recruitment & Diversity Services, on January 8 our 18 School At Work (SAW) graduates were congratulated on their achievements and inspired to continue their career journeys.  Toby Boatwright, a member of this 2019 cohort, delivered a meaningful message about how SAW motivated him to begin making changes in his career strategy; one of which is returning to school. 
     Since 2006, UCDH has offered SAW as a career development program to our front line workforce making us the first Greater Sacramento Region's healthcare organization to provide this resource to our employees.  A blended learning program developed by Catalyst Learning, SAW's five-month curriculum includes goal setting, communication, grammar, reading, writing, math, medical terminology, and patient safety and satisfaction combined with personalized career development tools.  After graduation, one-third of UCDH's SAW alumni have received promotions and/or enrolled in school to begin or complete their educational pursuits.  
   The SAW program is only one of many career and leadership development programs, services, and classes that UCDH offers its employees (and their departments) at no-charge. Click here for more information about our career development programs. Or want to know more about UCDH's array of Training and Development offerings and services, contact us at hs-t-d@ucdavis.edu. 
Congrats to all the graduates!
Toby Boatwright (Environmental Services), Versavia Carp (Environmental Services), Laialonnie Cato (Food and Nutrition Services), Christy Cheung (Internal Medicine), Jazmin Espinoza (Volunteer Services), Sandra Fulp. (Patient Transport Services), Sheria Jordan (Patient Transport Services), Rosely Kayla (Environmental Services), Yasamin Mohammad (Radiology Administration), Maria Morales (Patient Financial Services), Vashna Prasad (PCN Roseville), Melanie Roquel (Environmental Services), Alicia Sauceda (Professional Billing Group), Tanu Uppal (Food and Nutrition Services), Edwin Villadolid (Pathology and Lab Medicine), Lisa Xiong (Environmental Services), Zoua Yang (Environmental Services), Salma Yusuf (Patient Financial Services)