Location:
1 1/2 blocks West of Freeborn Hall. Near the far end of the ARC's large parking lot. 
Access 268 Hoagland from the exterior of the building on the rear (south) side.
Official Campus Map: Hoagland Hall
---
Parking:
A UC Davis parking access validation (permit) is required to park on campus, either through the ParkMobile app or the purchase of an LRPP monthly permit (employees only). Find out more information by visiting the UC Davis Transportation Services webpage.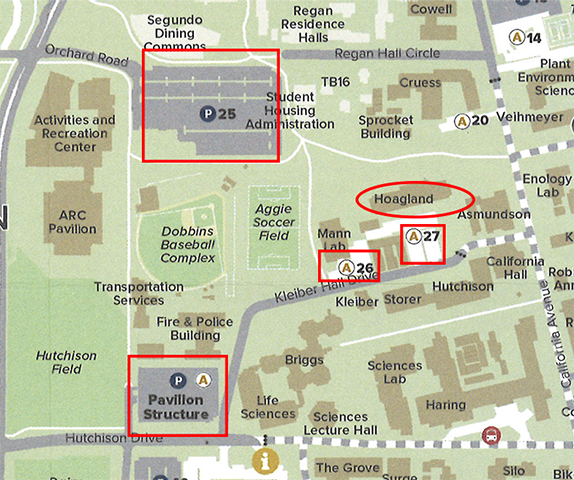 ---
Directions:
Take Interstate 80 to the Highway 113/Woodland cutoff (just west of campus)
Take Highway 113 to the Hutchison Dr exit, turn right if coming from Sacramento, Left if coming from Woodland
Proceed east on Hutchison Dr through the first traffic light (LaRue Rd)
Turn left at the next street onto Kleiber Hall Dr. There is a parking lot just past the Police/Fire Department on the left side of the road (Lot 26); however, a closer lot is lot 27, which is further east on Kleiber Hall Dr
From lot 27 (if in lot 26, walk East toward lot 27), walk north to Hoagland Hall
Take Interstate 80 to the Highway 113/Woodland cutoff (just west of campus)
Take Highway 113 to the Hutchison Dr exit, turn right if coming from Sacramento, Left if coming from Woodland
Turn left on La Rue Rd
Turn right on Orchard Park Dr, pull into parking lot 25, and park as far east as you can
Walk east past the Housing Office, toward the Food Science building
At the Food Science building, walk south to Hoagland Hall
Take Interstate 80 to the Highway 113/Woodland cutoff (just west of campus)
Take Highway 113 to the Hutchison Dr exit, turn right if coming from Sacramento, Left if coming from Woodland
Cross the light at La Rue Road
Turn left on Dairy Road at the next light to enter the Pavilion parking structure
Walk north on Kleiber Hall Drive past the Fire Department and Police Department, Kleiber Hall Drive veers right/East
Pass three greenhouses and walk through Lot 27 (north from Kleiber Hall Drive)

Hoagland Hall will be directly in front of you