Location
The Hubert Heitman Staff Learning Center is located at 426 Engineering Bikeway, Davis, CA 95616. South of South Silo and North of Bainer Hall, this building was formerly known as the "Hog Barn."
Official Campus Map: Hubert Heitman Staff Learning Center
Parking
While there are some parking lots near Heitman, they often fill up early. You are encouraged to park at the Pavilion Parking Structure off Hutchison Drive near LaRue Road which is a 7-minute walk to the building.
A UC Davis parking access validation (permit) is required to park on campus. A parking permit can be purchased through the AMP Park app or with the LRPP monthly permit (employees only). Find out more information by visiting the UC Davis Transportation Services webpage.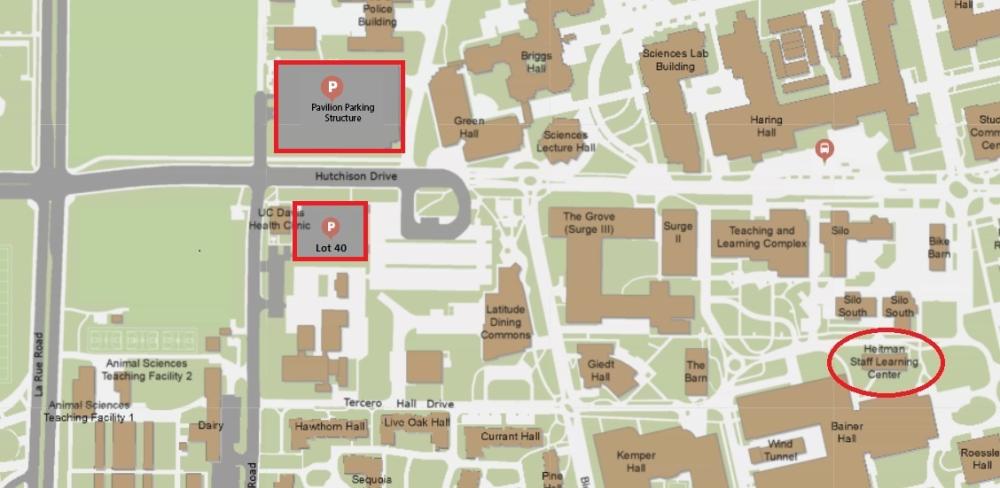 Causeway Connection
Directions
Take Interstate 80 to the Highway 113/Woodland cutoff (just west of campus)
Take Highway 113 to the Hutchison Dr exit, turn right if coming from Sacramento, Left if coming from Woodland
Cross the light at La Rue Road
Turn left on Dairy Road at the next light to enter the Pavilion parking structure
From the Parking structure continue East some distance on foot down Hutchison Drive
Turn right just beyond the Silo eating facility by Peet's; you will notice the Bike Barn at the corner
Turn right and cross the bike path 
You are now facing the Hubert Heitman Staff Learning Center
Take Interstate 80 to the Highway 113/Woodland cutoff (just west of campus)
Take Highway 113 to the Hutchison Dr exit, turn right if coming from Sacramento, Left if coming from Woodland
Cross the light at La Rue Road
Make a right into Parking Lot 40/41
From the Parking structure continue East some distance on foot down Hutchison Drive
Turn right just beyond the Silo eating facility by Peet's; you will notice the Bike Barn at the corner
Turn right and cross the bike path 
You are now facing the Hubert Heitman Staff Learning Center